Article information
Abstract
Full Text
Bibliography
Download PDF
Statistics
Tables (4)
Table 1. Clinical and radiological characteristics of the series revascularized due to occlusive ischaemic disease.
Table 2. Haemodynamic and clinical outcomes of the series of patients with occlusive ischaemic disease.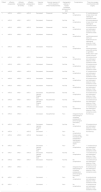 Table 3. Surgical and clinical aspects of the series of patients with moyamoya disease or syndrome.
Table 4. Haemodynamic and clinical outcomes of the series of patients with moyamoya disease or syndrome.
Abstract
Introduction
Cerebral revascularization techniques are an indispensable tool in the current armamentarium of vascular neurosurgeons. We present revascularization surgery experience and results in both moyamoya disease and occlusive cerebral ischaemia.
Patients and methods
Patients with ischaemic occlusive disease and moyamoya disease who underwent microsurgical revascularization between October 2014 and September 2017 were analysed.
Results
In the study period, 23 patients with occlusive ischaemic disease underwent microsurgical revascularization. Three patients presented with serious postoperative complications (2 intraparenchymal haemorrhages in the immediate postoperative period and one thrombosis of the femoral artery). All patients, except one, achieved normalisation of the cerebral haemodynamic reserve (CHR) in the SPECT study. Twenty patients had a good neurological result, with no ischaemic recurrence of the revascularized territory. Among patients with moyamoya, 20 had moyamoya disease and 5 had moyamoya syndrome with unilateral involvement. Five patients were treated at paediatric age. Haemorrhagic onset occurred in 2 patients. The CHR study showed haemodynamic compromise in all patients. Cerebral SPECT at one year showed resolution of the haemodynamic failure in all patients. There have been 4 postoperative complications (acute subdural haematoma, two subdural collections and one dehiscence of the surgical wound). No patient presented with neurological worsening at 6 and 12months of follow-up.
Conclusions
Cerebral revascularization through end-to-side anastomosis between the superficial temporal artery and a cortical branch of the middle cerebral artery is an indisputable technique in the treatment of moyamoya disease and possibly in a subgroup of patients with symptomatic occlusive ischaemic cerebrovascular disease.
Keywords:
Cerebral revascularization
Cerebral haemodynamics
Moyamoya disease
Carotid occlusion
Brain ischaemia
Extracranial–intracranial bypass
Resumen
Introducción
Las técnicas de revascularización cerebral constituyen una herramienta indispensable en el arsenal actual del neurocirujano vascular. Presentamos la experiencia adquirida y los resultados de la cirugía de revascularización tanto en la enfermedad de moyamoya como en la isquemia cerebral oclusiva.
Pacientes y métodos
Se analizan los pacientes con enfermedad isquémica oclusiva y enfermedad de moyamoya revascularizados microquirúrgicamente en el periodo comprendido entre octubre de 2014 y septiembre de 2017.
Resultados
En el periodo de estudio, 23 pacientes con enfermedad isquémica oclusiva han sido revascularizados microquirúrgicamente. Tres pacientes presentaron complicaciones postoperatorias graves (2 hemorragias intraparenquimatosas en el postoperatorio inmediato y una trombosis de la arteria femoral). En todos los pacientes, excepto en uno, el SPECT muestra una normalización de la reserva hemodinámica cerebral (RHC). Veinte pacientes presentaron un buen resultado neurológico, sin recurrencias isquémicas del territorio revascularizado. De la serie de pacientes con moyamoya, 20 presentaban una enfermedad de moyamoya y 5 un síndrome de moyamoya con afectación unilateral. Cinco pacientes fueron tratados en edad pediátrica. Hubo un comienzo hemorrágico en 2 pacientes. El estudio de la RHC mostró un compromiso hemodinámico en todos los pacientes. El SPECT cerebral al año ha mostrado una resolución del fracaso hemodinámico en todos los pacientes. Ha habido 4 complicaciones postoperatorias (hematoma subdural agudo, 2 colecciones subdurales y una dehiscencia de la herida quirúrgica). Ningún paciente ha presentado un empeoramiento neurológico en los controles a los 6 y 12meses.
Conclusión
La revascularización cerebral mediante la realización de una anastomosis termino-lateral entre la arteria temporal superficial y una rama cortical de la arteria cerebral media constituye una técnica indiscutible en el tratamiento de la enfermedad de moyamoya y posiblemente pueda serlo en un subgrupo de pacientes con patología oclusiva isquémica cerebral sintomática.
Palabras clave:
Revascularización cerebral
Hemodinámica cerebral
Enfermedad de moyamoya
Oclusión carotídea
Isquemia cerebral
Bypass extracraneal-intracraneal
Article
These are the options to access the full texts of the publication Neurocirugía (English edition)