Article information
Abstract
Full Text
Bibliography
Download PDF
Statistics
Abstract
Spontaneous pneumocephalus following cerebrospinal fluid shunt is a rare complication. In most cases, the air enters in the intracranial cavity via a skull base defect. We report 2 cases of delayed tension pneumocephalus, secondary to ventriculoperitoneal shunt, and review the etiopathogenesis, prevention and treatment of this condition.
Keywords:
Tension pneumocephalus
Delayed pneumocephalus
Ventriculoperitoneal shunt
Resumen
El neumoencéfalo a tensión es una rara complicación después de la colocación de sistemas de derivación de líquido cefalorraquídeo. En la mayoría de casos la etiopatogenia está relacionada con un defecto de la base del cráneo. Presentamos 2 casos de neumoencéfalo tardío a tensión después de la colocación de derivación ventriculoperitoneal y revisamos la literatura, analizando los mecanismos de etiopatogenia, así como las posibles formas de prevención y tratamiento.
Palabras clave:
Neumoencéfalo a tensión
Neumoencéfalo tardío
Derivación ventriculoperitoneal
Article
These are the options to access the full texts of the publication Neurocirugía (English edition)
Member
Member of the Sociedad Española de Neurocirugía
If it is the first time you have accessed you can obtain your credentials by contacting Elsevier Spain in suscripciones@elsevier.com or by calling our Customer Service at902 88 87 40 if you are calling from Spain or at +34 932 418 800 (from 9 to 18h., GMT + 1) if you are calling outside of Spain.
If you already have your login data, please click here . p>
If you have forgotten your password you can you can recover it by clicking here and selecting the option ¿I have forgotten my password¿.
Subscribe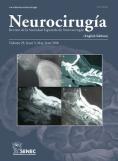 Subscribe to
Neurocirugía (English edition)