Article information
Abstract
Full Text
Bibliography
Download PDF
Statistics
Abstract
The objective of this research was to identify clinically significant changes in cognitive functions in three adolescents who underwent surgery for resection of a focal vascular lesion in the frontal lobe. Cognitive functions, executive function, behavior regulation, emotion regulation, and social abilities were assessed prior to surgery, six and 24 months post-discharge. Significant clinical changes were observed during all the assessments. Cognitive changes after surgery are not homogeneous. Most of the significant clinical changes were improvements. Especially the significant clinical changes presented in EF domains were only improvements; these results suggest that EF were affected by the vascular lesion and benefitted by the surgery. After resection of a vascular lesion between 15 and 16 years of age the affected executive functions can continue the maturation process. Our results highlight the importance that assessments must include emotional aspects, even if deficits in these domains are not presented in the acute phase. Rehabilitation methods should promote the development of skills that help patients and their families to manage the emotional and behavioral changes that emerge once they are discharged from the hospital.
Keywords:
Adolescents
Executive functions
Brain lesions
Neurosurgery
Arteriovenous malformations
Cavernous angioma
Resumen
El objetivo de este estudio fue identificar cambios clínicamente significativos en las funciones cognoscitivas de tres adolescentes que fueron intervenidos quirúrgicamente para resección de una lesión vascular focal en el lóbulo frontal. Se midieron funciones cognoscitivas, funciones ejecutivas, regulación conductual, regulación emocional y habilidades sociales en tres momentos, antes de la cirugía, 6 y 24 meses después de la cirugía. Se observaron cambios clínicamente significativos durante los tres momentos de evaluación. Los cambios cognoscitivos después de la cirugía no son homogéneos. La mayoría de los cambios fueron incrementos. Especialmente los cambios clínicamente significativos presentados en funciones ejecutivas fueron mejoras, los resultados sugieren que la resección de una lesión vascular entre los 15 y 16 años de edad permite la recuperación de las funciones ejecutivas. Nuestros resultados señalan la importancia de incluir aspectos emocionales en la evaluación, aún si no se presentaron alteraciones emocionales en la fase aguda. Se sugiere que los métodos de rehabilitación apoyen a los pacientes y a sus familias a manejar los cambios emocionales y conductuales que surgen una vez que son dados de alta del hospital.
Palabras clave:
Adolescentes
Funciones ejecutivas
Lesiones cerebrales
Neurocirugía
Malformaciones arteriovenosas
Hemangioma cavernoso
Article
These are the options to access the full texts of the publication Neurocirugía (English edition)
Member
Member of the Sociedad Española de Neurocirugía
If it is the first time you have accessed you can obtain your credentials by contacting Elsevier Spain in suscripciones@elsevier.com or by calling our Customer Service at902 88 87 40 if you are calling from Spain or at +34 932 418 800 (from 9 to 18h., GMT + 1) if you are calling outside of Spain.
If you already have your login data, please click here . p>
If you have forgotten your password you can you can recover it by clicking here and selecting the option ¿I have forgotten my password¿.
Subscribe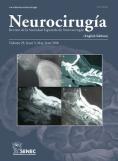 Subscribe to
Neurocirugía (English edition)