Article information
Abstract
Full Text
Bibliography
Download PDF
Statistics
The authors report the case of an 82 year-old woman with a primary malignant melanoma of the cauda equina resembling lumbar schwannoma in the MRI study. Melanocytic neoplasms are very rare but they should be included in the differential diagnosis of lesions involving the spinal nerves. The treatment of choice for these lesions is complete resection followed by radiotherapy. The outcomes reported in the literature are variable and are associated with the age of presentation, histopathological findings, extent of surgical resection and absence of metastatic lesions.
Keywords:
Primary melanoma
Spinal nerve tumour
Melanocytic neoplasm
Intradural tumour
Se presenta el caso clínico de una paciente de 82 años con un melanoma maligno primario de la cauda equina, que en las imágenes de resonancia magnética parecía un schawnnoma lumbar. Las neoplasias melanocíticas son muy raras, pero se deben incluir en el diagnóstico diferencial de las lesiones que afectan a los nervios espinales. Su tratamiento de elección es la resección completa, seguida de radioterapia. La evolución de estos pacientes es muy variable y va a depender de la edad del paciente, de los hallazgos histopatológicos, de la resección quirúrgica y de la ausencia de metástasis.
Palabras clave:
Melanoma primario
Tumor de la raíz espinal
Neoplasia melanocítica
Tumor intradural
Article
These are the options to access the full texts of the publication Neurocirugía (English edition)
Member
Member of the Sociedad Española de Neurocirugía
If it is the first time you have accessed you can obtain your credentials by contacting Elsevier Spain in suscripciones@elsevier.com or by calling our Customer Service at902 88 87 40 if you are calling from Spain or at +34 932 418 800 (from 9 to 18h., GMT + 1) if you are calling outside of Spain.
If you already have your login data, please click here . p>
If you have forgotten your password you can you can recover it by clicking here and selecting the option ¿I have forgotten my password¿.
Subscribe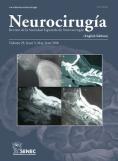 Subscribe to
Neurocirugía (English edition)