Article information
Abstract
Full Text
Bibliography
Download PDF
Statistics
Multicentric gliomas are uncommon lesions of the central nervous system. Their management remains controversial, but histopathologic diagnosis after complete or partial resection must be performed to differentiate these tumors from other multiple cerebral lesions. Three cases of multicentric glioma are presented, one of which had supra- and infratentorial lesions. Histological specimens were obtained from removal of at least one of the lesions. Neuropathological examinations confirmed the diagnosis of grade IV malignant glioma (glioblastoma). All 3 patients died soon after symptom onset. However, one patient, with metachronous glioblastomas, had a comparatively long survival. We discuss the pathogenetic hypotheses and the diagnostic problems, especially the differential diagnosis from other multifocal diseases of the central nervous system.
Keywords:
Multicentric gliomas
Glioblastoma multiforme
Multiple cerebral lesions
Infratentorial and supratentorial lesions
Los gliomas multicéntricos son lesiones inusuales del sistema nervioso central. Su manejo sigue siendo controvertido y es necesario un diagnóstico histopatológico tras su resección parcial o completa para diferenciarlos de otras lesiones cerebrales múltiples. Se presentan 3 casos de glioma multicéntrico, uno de ellos con lesiones supra e infratentoriales. Se obtuvieron muestras histológicas tras resección de al menos una de las lesiones. Análisis histopatológicos confirmaron el diagnóstico de glioma maligno grado iv (glioblastoma). Los 3 pacientes fallecieron en breve periodo de tiempo tras la aparición de los síntomas. Sin embargo, uno de ellos, con glioblastomas metacronos tuvo, comparativamente, una supervivencia algo más larga. Se discuten las hipótesis patogénicas y los problemas diagnósticos, especialmente el diagnóstico diferencial con otras lesiones multifocales del sistema nervioso central.
Palabras clave:
Glioma multicéntrico
Glioblastoma multiforme
Lesiones cerebrales múltiples
Lesiones supra e infratentoriales
Article
These are the options to access the full texts of the publication Neurocirugía (English edition)
Member
Member of the Sociedad Española de Neurocirugía
If it is the first time you have accessed you can obtain your credentials by contacting Elsevier Spain in suscripciones@elsevier.com or by calling our Customer Service at902 88 87 40 if you are calling from Spain or at +34 932 418 800 (from 9 to 18h., GMT + 1) if you are calling outside of Spain.
If you already have your login data, please click here . p>
If you have forgotten your password you can you can recover it by clicking here and selecting the option ¿I have forgotten my password¿.
Subscribe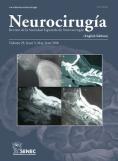 Subscribe to
Neurocirugía (English edition)