Article information
Abstract
Full Text
Bibliography
Download PDF
Statistics
Abstract
Introduction
There are published cases of cerebral hemorrhage secondary to vascular alterations caused by choriocarcinoma metastases. However, it is extremely rare to find this type of bleeding secondary to an association of such a metastasis with a brain arteriovenous malformation (AVM).
Clinical case
We present the case of a 19-year-old male who came to the Emergency Department complaining of intense headache of abrupt onset. His physical examination revealed a striking increase in size of the right testicle of tumoral origin. Chest X-ray evidenced metastasis to the lungs and a brain CT showed a frontal hemorrhage of probably metastatic origin. The latter eventually progressed to cause the death of the patient. Pathology of the brain hematoma disclosed a choriocarcinoma within the brain AVM nidus.
Conclusions
The case presented is an extremely rare confluence of choriocarcinoma brain metastasis within an AVM. The hemorrhagic onset could have been secondary to bleeding from either of the two histological components of the subjacent mixed pathological lesion.
Keywords:
Brain arteriovenous malformation
Choriocarcinoma
Brain metastases
Brain hemorrhage
Resumen
Introducción
Aunque se han descrito casos de hemorragia cerebral secundaria a anomalías vasculares inducidas por metástasis de coriocarcinomas, es excepcional el que una hemorragia cerebral se deba a una asociación de malformación arteriovenosa con metástasis de coriocarcinoma.
Caso clínico
Presentamos el casos de un paciente varón de 19 años que acudió a urgencias por cefalea brusca, intensa. Su exploración física demostró un tumor testicular de gran tamaño. El estudio radiológico mostró metástasis pulmonares, y la TC cerebral evidenció un hematoma frontal sospechoso de tener origen metastásico. La evolución de este hematoma fue eventualmente la causa de la muerte del paciente. La anatomía patológica del hematoma demostró una metástasis de coriocarcinoma en el seno del nidus de una MAV.
Conclusiones
Se trata de un caso extremadamente infrecuente de colisión de una metástasis de coriocaricnoma en el seno de una MAV cerebral. El debut hemorrágico pudo deberse a sangrado de cualquiera de los dos componentes patológicos de esta lesión mixta.
Palabras clave:
Malformación ateriovenosa cerebral
Coriocarcinoma
Metástasis cerebral
Hematoma cerebral
Article
These are the options to access the full texts of the publication Neurocirugía (English edition)
Member
Member of the Sociedad Española de Neurocirugía
If it is the first time you have accessed you can obtain your credentials by contacting Elsevier Spain in suscripciones@elsevier.com or by calling our Customer Service at902 88 87 40 if you are calling from Spain or at +34 932 418 800 (from 9 to 18h., GMT + 1) if you are calling outside of Spain.
If you already have your login data, please click here . p>
If you have forgotten your password you can you can recover it by clicking here and selecting the option ¿I have forgotten my password¿.
Subscribe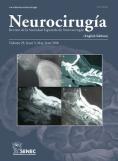 Subscribe to
Neurocirugía (English edition)