Article information
Abstract
Full Text
Bibliography
Download PDF
Statistics
Abstract
Arterial supply and venous drainage at the foramen magnum is variable. Two main forms of clinical presentation, intracranial and spinal, can be differentiated when a dural arteriovenous fistula (DAVF) is found at this level.
We describe a case of a 68-year-old patient with a progressive paraparesis, diagnosed of dural arteriovenous fistula located at the posterior lip of foramen magnum. We review, in this setting, the vascular radiological anatomy of those fistulas and its important correlation with neurologic clinical symptoms.
Keywords:
Dural arteriovenous fistula
Foramen magnum
Venous drainage
Myelopathy
Resumen
El aporte arterial y el drenaje venoso en el agujero magno son variables. Dos formas principales de presentación clínica, intracraneal y medular pueden ser diferenciadas en las fístulas durales arteriovenosas encontradas a este nivel. Se presenta el caso de un paciente de 68 años que, tras un cuadro de paraparesia progresiva, se diagnostica de una fístula dural arteriovenosa dural localizada en el borde posterior del agujero magno. A propósito de este caso se revisa la anatomía radiológica y vascular de estas fístulas y su importante correlación con los síntomas neurológicos.
Palabras clave:
Fístula dural arteriovenosa
Agujero occipital
Drenaje venoso
Mielopatía
Article
These are the options to access the full texts of the publication Neurocirugía (English edition)
Member
Member of the Sociedad Española de Neurocirugía
If it is the first time you have accessed you can obtain your credentials by contacting Elsevier Spain in suscripciones@elsevier.com or by calling our Customer Service at902 88 87 40 if you are calling from Spain or at +34 932 418 800 (from 9 to 18h., GMT + 1) if you are calling outside of Spain.
If you already have your login data, please click here . p>
If you have forgotten your password you can you can recover it by clicking here and selecting the option ¿I have forgotten my password¿.
Subscribe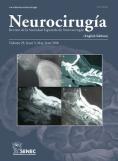 Subscribe to
Neurocirugía (English edition)