Article information
Abstract
Full Text
Bibliography
Download PDF
Statistics
Abstract
Trigeminal neuralgia is classically associated with neurovascular compression of the trigeminal nerve, at the root entry zone (REZ). However, patients are occasionally affected by intra-axial involvement of trigeminal sensory fibers caused by demyelinating diseases, strokes and, rarely, pontine cavernous malformations. We discuss the management strategies and decision-making process in a 55-year-old patient, affected by trigeminal neuralgia with 2 potential causative mechanisms: a neurovascular conflict at the trigeminal REZ and an ipsilateral cavernous malformation at the pontine nucleus of the trigeminal nerve.
Keywords:
Trigeminal neuralgia
Neurovascular compression
Brainstem cavernous malformation
Resumen
La neuralgia del trigémino está clásicamente asociada con la compresión neurovascular del nervio trigémino, en la zona de entrada de la raíz (REZ). Sin embargo, los pacientes son ocasionalmente afectados por la implicación intra-axial de las fibras sensitivas del trigémino causadas por enfermedades desmielinizantes, accidentes cerebrovasculares, y raramente por malformaciones cavernosas pontinas. Se discuten las estrategias y la toma de decisiones en un paciente de 55 años de edad, afectado por la neuralgia del trigémino, con dos posibles mecanismos causales: un conflicto neurovascular en la zona de entrada de la raíz del trigémino y una malformación cavernosa en el núcleo pontino del trigémino ipsilateral.
Palabras clave:
Neuralgia del trigémino
Compresión neurovascular
Malformación cavernosa del tronco cerebral
Article
These are the options to access the full texts of the publication Neurocirugía (English edition)
Member
Member of the Sociedad Española de Neurocirugía
If it is the first time you have accessed you can obtain your credentials by contacting Elsevier Spain in suscripciones@elsevier.com or by calling our Customer Service at902 88 87 40 if you are calling from Spain or at +34 932 418 800 (from 9 to 18h., GMT + 1) if you are calling outside of Spain.
If you already have your login data, please click here . p>
If you have forgotten your password you can you can recover it by clicking here and selecting the option ¿I have forgotten my password¿.
Subscribe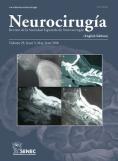 Subscribe to
Neurocirugía (English edition)