Article information
Abstract
Full Text
Bibliography
Download PDF
Statistics
Abstract
Background
Chronic intradiploic hematoma was first described by Chorbski and Davis in 1934. To date, only twelve cases have been reported in the literature. Chronic intradiploic hematomas have also been described as non-neoplastic cysts of the diploe, traumatic cysts, and giant cell repetitive granulomas. The term chronic intradiploic hematoma was coined by Sato et al. in 1994.
Case description
Case 1: a 16-year-old male presented with a non-tender scalp swelling on the right fronto-orbital region. Computed tomography (CT) scans showed an intraosseous isodense lesion with surrounding sclerosis. Magnetic resonance imaging (MRI) results revealed an intradiploic mass with homogeneous cystic and abnormal signal intensities. Case 2: a 64-year-old male presented with a 6-month history of headaches and visual disturbances. CT scans showed an isodense lesion with surrounding sclerosis in the posterolateral left orbit. MRI results revealed a hypointense lesion on both the T1weighted and T2-weighted images of the posterolateral left orbit.
Conclusion
Although rarely seen, the presence of a benign chronic hematoma should be considered as part of the differential diagnosis for each intradiploic mass lesion. When taking the medical history, all patients with such mass lesions should be asked about previous minor or major head traumas. Due to the possibility of progressive growth, surgical excision of an intradiploic hematoma is recommended after radiological diagnosis of the condition.
Keywords:
Intradiploic space
Hematoma
Skull
Resumen
Antecedentes
El hematoma crónico intradiploico fue descrito por primera vez por Chorbski y Davis en 1934. Hasta la actualidad solo se han publicado 12 casos en la literatura. Los hematomas crónicos intradiploicos también se han descrito como quistes no neoplásicos del diploe, quistes traumáticos y granulomas repetitivos de células gigantes. El término hematoma crónico intradiploico fue acuñado por Sato et al. en 1994.
Descripción de los casos
Caso 1: Varón de 16años que consultó por hinchazón no dolorosa en región frontoorbitaria derecha. La tomografía computarizada mostró una lesión intraósea isodensa con esclerosis circundante. La resonancia magnética (RM) reveló una masa intradiploica con quiste homogéneo de señal anormal. Caso 2: Varón de 64años que consultó por historia de 6meses de dolor de cabeza y alteraciones visuales. La tomografía computarizada craneal mostró una lesión isodensa con esclerosis circundante en la región posterolateral de la órbita izquierda. La RM mostró una lesión hipointensa tanto en las secuencias TI como T2 de la porción posterolateral de la órbita izquierda.
Conclusión
A pesar de su rareza, la presencia de un hematoma crónico benigno debe considerarse en el diagnóstico diferencial de cada lesión masiva intradiploica. A los pacientes con este tipo de lesiones de masa se les debe interrogar sobre el antecedente de trauma craneal previo mayor o menor. Debido a la posibilidad de crecimiento progresivo, se recomienda la extirpación quirúrgica del hematoma intradiploico una vez realizado el diagnóstico radiológico de la enfermedad.
Palabras clave:
Espacio intradiploico
Hematoma
Cráneo
Article
These are the options to access the full texts of the publication Neurocirugía (English edition)
Member
Member of the Sociedad Española de Neurocirugía
If it is the first time you have accessed you can obtain your credentials by contacting Elsevier Spain in suscripciones@elsevier.com or by calling our Customer Service at902 88 87 40 if you are calling from Spain or at +34 932 418 800 (from 9 to 18h., GMT + 1) if you are calling outside of Spain.
If you already have your login data, please click here . p>
If you have forgotten your password you can you can recover it by clicking here and selecting the option ¿I have forgotten my password¿.
Subscribe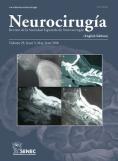 Subscribe to
Neurocirugía (English edition)