Article information
Abstract
Full Text
Bibliography
Download PDF
Statistics
Abstract
Macroprolactinomas may behave invasively and infiltrate the skull base, causing a subsequent thinning that can also lead to a bone defect and a direct route of entry for pathogens. We describe the case of a 34-year-old male admitted to hospital with fever (38°C), headache, stiffness in the neck, diplopia and neurological impairment. Brain magnetic resonance imaging showed two bilateral abscesses in the fronto-parietal areas with intracranial venous sinus thrombosis and a pituitary adenoma that extended from the suprasellar region, eroding the sellar floor into the sphenoid sinus. Laboratory hormone measurements showed increased levels of prolactin and low levels of FSH, LH and testosterone. The patient received antibiotic treatment and surgery was performed. The patient developed central deafness as a neurological deficit. It is advisable to include pituitary adenoma in the differential diagnosis of meningitis even though its onset as intracranial abscess and rectus sinus thrombosis is extremely rare.
Keywords:
Brain abscess
Meningitis
Pituitary adenoma
Prolactinoma
Rectus sinus thrombosis
Transsphenoidal surgery
Resumen
Los macroprolactinomas pueden ser invasivos e infiltrar la base del cráneo causando el posterior adelgazamiento que puede conducir a un defecto del hueso y una vía de entrada para patógenos. Describimos un varón de 34 años que ingresó en el hospital con cefalea, rigidez de nuca, diplopia y deterioro neurológico. Las imágenes de resonancia magnética nuclear mostraron dos abscesos bilaterales frontoparietales con trombosis venosa del seno y un adenoma hipofisario que se extendía desde la región supraselar, erosionando el suelo de la silla hacia el seno esfenoidal. El análisis hormonal mostró aumento del nivel de prolactina y descenso de los niveles de FSH, LH y testosterona. El paciente recibió tratamiento antibiótico y fue intervenido quirúrgicamente. El paciente desarrolló sordera central como déficit neurológico. Es recomendable incluir el adenoma hipofisario en el diagnóstico diferencial de la meningitis aunque su debut como abscesos intracraneales y trombosis del seno recto es extraordinario.
Palabras clave:
Absceso cerebral
Meningitis
Adenoma hipofisario
Prolactinoma
Trombosis del seno recto
Cirugía transesfenoidal
Article
These are the options to access the full texts of the publication Neurocirugía (English edition)
Member
Member of the Sociedad Española de Neurocirugía
If it is the first time you have accessed you can obtain your credentials by contacting Elsevier Spain in suscripciones@elsevier.com or by calling our Customer Service at902 88 87 40 if you are calling from Spain or at +34 932 418 800 (from 9 to 18h., GMT + 1) if you are calling outside of Spain.
If you already have your login data, please click here . p>
If you have forgotten your password you can you can recover it by clicking here and selecting the option ¿I have forgotten my password¿.
Subscribe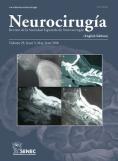 Subscribe to
Neurocirugía (English edition)