Article information
Abstract
Full Text
Bibliography
Download PDF
Statistics
Abstract
The intervertebral disc (IVD) is noted for its low cell content, and being the largest avascular structure of human body. The low amount of cells in the disc have to adapt to an anaerobic metabolism with low oxygen pressure and acidic pH. Apart from surviving in an adverse microenvironment, they are exposed to a high level of mechanical stress. The biological adaptation of cells to acidosis and hyperosmolarity conditions are regulated by mechanoproteins, which are responsible for converting a mechanical signal into a cellular response, thus modifying its gene expression. Mechanobiology helps us to better understand the pathophysiology of IVD and its potential biological repair.
Keywords:
Intervertebral disc
Intervertebral disc biology
Intervertebral disc mechanobiology
Mechanoproteins in the intervertebral disc
Resumen
El disco intervertebral (DIV) se caracteriza por su escasa celularidad y por constituir la estructura avascular más grande del cuerpo humano. Las escasas células del disco tienen que adaptarse a un metabolismo anaerobio con baja tensión de O2 y pH ácido. Además de sobrevivir a un microambiente adverso, están expuestas a un elevado estrés mecánico. La adaptación biológica de las células a las condiciones de acidosis e hiperosmolaridad está regulada por mecanoproteínas responsables de convertir una señal mecánica en respuesta celular, modificando su expresión génica. La mecanobiología nos ayuda a entender mejor la biopatología del DIV y su potencial reparación biológica.
Palabras clave:
Disco intervertebral
Biología del disco intervertebral
Mecanobiología del disco intervertebral
Mecanoproteínas en el disco intervertebral
Article
These are the options to access the full texts of the publication Neurocirugía (English edition)
Member
Member of the Sociedad Española de Neurocirugía
If it is the first time you have accessed you can obtain your credentials by contacting Elsevier Spain in suscripciones@elsevier.com or by calling our Customer Service at902 88 87 40 if you are calling from Spain or at +34 932 418 800 (from 9 to 18h., GMT + 1) if you are calling outside of Spain.
If you already have your login data, please click here . p>
If you have forgotten your password you can you can recover it by clicking here and selecting the option ¿I have forgotten my password¿.
Subscribe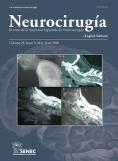 Subscribe to
Neurocirugía (English edition)