Summary
The association between vascular malformations and cerebral gliomas is unusual. While the association between cavernous angioma with gliomatous lesions is even more rare, it is considered by certain authors to be a particular pathological entity termed angioglioma. The authors report on two cases of association of a cavernous angioma with a ganglioglioma and an oligodendroglioma respectively. Subsequent review of the literature on the so-called angiogliomas was conducted. In the author's opinion, the entity of angiogliomas represents a general spectrum of angiomatous neoplasms that include gliomatous tumors, in the majority low-grade gliomas, associated with a major vascular component.
Key words:
Brain tumor
Glioma
Cavernous angioma
Angioglioma
Resumen
La asociación entre las malformaciones vasculares y los gliomas cerebrales es inusual. Mientras que la asociación entre angioma cavernoso con lesiones gliomatosas es aún más rara, es por esto considerado por algunos autores como una entidad patológica particular llamada angioglioma.
Los autores reportan dos casos de asociación de un angioma cavernoso con una ganglioglioma y un oligodendroglioma, respectivamente. Además se realizó una revisión de la literatura sobre los llamados angiogliomas.
En opinión de los autores, la entidad de los angiogliomas se presenta dentro de un espectro general de neoplasias angiomatosas, que incluyen tumores cerebrales, en su mayoría gliomas de bajo grado, asociados a su vez, con un componente vascular importante.
Palabras clave:
Tumor cerebral
Glioma
Angioma cavernoso
Angioglioma
Article
These are the options to access the full texts of the publication Neurocirugía (English edition)
Member
Member of the Sociedad Española de Neurocirugía
If it is the first time you have accessed you can obtain your credentials by contacting Elsevier Spain in suscripciones@elsevier.com or by calling our Customer Service at902 88 87 40 if you are calling from Spain or at +34 932 418 800 (from 9 to 18h., GMT + 1) if you are calling outside of Spain.
If you already have your login data, please click here . p>
If you have forgotten your password you can you can recover it by clicking here and selecting the option ¿I have forgotten my password¿.
Subscribe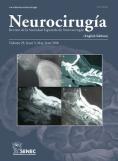 Subscribe to
Neurocirugía (English edition)